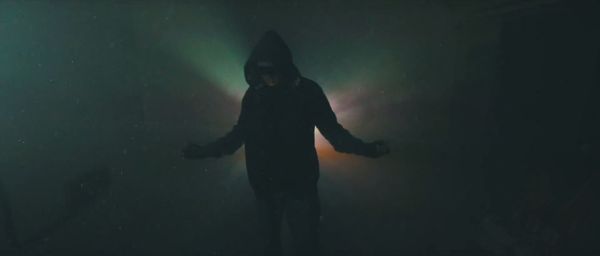 Presenting the official music video for my latest single, "A Thousand Words A Day." This song was inspired by and dedicated to the person who first taught me how to write raps and freestyle, Zachary Lee Sloat (1980-2015). Zack exposed me to music, artists and ideas that I had never heard before we met. He educated me about Hip Hop as a culture and he was my first teacher of the elements of Hip Hop. In many ways, I owe Zack not only for my musical successes but for my very awareness as it is today. I was proud to honor my friend and teacher in this song and it was important for me to further honor him in the music video.
As a practitioner of all of the elements of Hip Hop, Zack spent many hours sketching in his black book and on occasion, creating aerosol (graffiti) art. Once I shared this information with Kenny Evans, CEO of Electric Media Group and director of the music video, he immediately came up with his vision.
The video is a mix a thoughtful reflection, physical embodiment and artistic dedication. Archive video footage spanning across the entirety of my music career appears on screen as clips displayed on a movie projector. In all of the scenes where I am seen in an empty warehouse, sitting, rapping or painting, I am reflecting on the memory of my deceased friend; In the scenes were I am seen rapping in a dark, smokey room, I am performing as if I myself am Zack. Images of me painting with aerosol cans continue throughout the music video and finally climax at the very end when a mural of Zack's name is displayed on screen.

The mural that appears in the music video was a commissioned work created by UK based graffiti artist, Tusk4. He created the mural on a bridge just outside of Nottingham, England and sent me a high resolution photo of the completed masterpiece. The mural was placed into the video digitally and despite my own secret concerns of how everything was going to turn out, I believe that the art is wonderfully showcased and it both perfectly compliments and completes the music video. Thank you again to Tusk4 for his hard work and stunning artwork! Be sure to follow him on Instagram.
Finally, I must thank Creative Loafing for premiering the music video on their website! CL Tampa is an award-winning alternative, weekly newspaper and website based out of Tampa, Florida and they have helped to expose and expand the reach of many local bands, musicians and artists of all types over the years. You can view the music video & read the article they wrote about me on their website by clicking here.
Thank you for visiting my website and for reading my blog. Please like, comment & share the music video and subscribe to my channel on Youtube.